Welcome to the HorseChannel Holiday E-Card Contest!
Contest Dates: October 31 – November 23, 2007

Example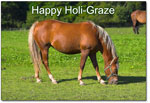 Get your creativity flowing and create new cards to share with other equestrians! Give us a line of text and a picture, illustration or design to combine for your very own E-Card. The top three E-Cards with the most votes at the end of the contest will be made into HorseChannel E-Cards and will post on the website for everyone to send! If you're a whiz at editing photos, you can even add your own artistic touches or text to the picture.
Do not post any copyrighted or inappropriate pictures to the site. All entries are subject to removal at our discretion.
Winners will be contacted by E-mail at the end of the contest and will be asked to resubmit their images in a specific format. The required format will be 515 pixels x 353 pixels for landscape, and vice versa for portrait. If a winner cannot be reached, the next top entry will be chosen. Winning entries are scheduled to be posted by December 1st, 2007.