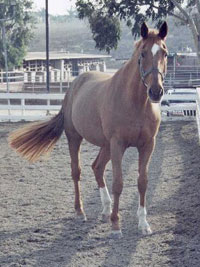 Willem the horse was known among his horse and human barnmates as a character. It was said that he spoke with a German accent, owed to his warmblood heritage, and that he was quite a talent at wooing the lady horses after the sun went down at his stable. He gained even more notoriety when his photo was featured on the front page of the book, A Passion for Horses. With such a reputation as a larger-than-life equine, owner Corinne Dekker had her heart broken when the big chestnut gelding died due to complications of Cushing's disease. In his memory, she reached out to fellow horse owners in efforts to educate them about the disease, which affects the metabolic system and usually strikes older horses. Symptoms include an unusually hairy coat (even in summer), a thick, cresty neck and a potbellied appearance. One of the most dangerous side effects of Cushing's diseases is recurrent bouts of laminitis, which is what ultimately led to Willem's death.

Fortunately, his legacy lives on, and in a way most horse owners could never have imagined. A likeness of Willem the real horse is now being crafted into Willem the model horse, thanks to an effort led by model horse collector and equestrienne Pat Coulter. Even though Coulter lives on the East Coast and Dekker on the west, the two corresponded via email and phone and ended up contacting the Peter Stone Company. A contract was drawn up. Photos of Willem were sent to the model horse manufacturer. A base model was selected. And very soon, a prototype of the horse who met Corinne Dekker at his paddock gate each day was recreated in a detailed model image. In a few weeks, a special run of the Willem model will be available, with a percentage of the sales going directly to Cushing's research at UC Davis veterinary school.
Coulter, who has been corralling her own herd of model horses since 1980 (she admits to "only" harboring 200 or so), says that jus
t about anyone can commission a special run of a model. They just need to be prepared to put forth the front money.
"Among collectors we sort of say that in any given year there may be more limited editions or special runs than regular production models," Coulter explains.
What's the cost involved with getting a commemorative model of a special horse? It all depends. For starters, the more intricate the coat pattern of the horse, the more time it takes to get the look just right, and that adds up to more production costs. Then, there's currently a $500 deposit required to get the horse out of the stall, so to speak. And a financial commitment to purchase a specified number of models (usually 100) is also needed. That's not exactly pocket change for most horse owners.
"There's no guarantee that there will be a future increase in value as far as a collectible is concerned," warns Coulter. "The value all depends on how cute, how desirable the special run model is."
Sandy Cord, a direct marketing representative for the Peter Stone Company, agrees. And yet she offers, "Special runs or limited editions are a good part of the Peter Stone Company. Every person has a special motivation for their commissioned model. Some are specifically created for use as fundraisers or for awards, but many are done to commemorate a special horse. Recently we did a special run for the 4-H Horse of the Year."
Now there will be a Willem model. No doubt the charismatic big red horse would be proud.