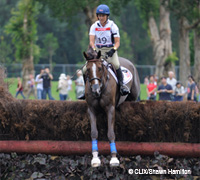 Gina Miles and the famous mount McKinlaigh remained intently focused throughout the Olympic eventing competition, and for their efforts they were rewarded with a silver medal in the Olympic Individual eventing competition. Miles will join Germany's Hinrich Romeike, who took the Individual Gold in eventing riding Marius, and Britain's Kristina Cook, who claimed bronze aboard Miners Frolic, on the medals' podium August 13.
Miles wasn't sure if she'd even be a contender in the Individual competition. During the second vet inspection, she saw her Olympic dreams come crashing down after inspectors sent McKinlaigh to a holding box for a second, closer look. But the brave horse was later cleared for competition and off he went with Miles, who was visibly relieved to be back in the game.
U.S. eventer Rebecca Holder aboard Courageous Comet came in 42nd overall in Individual competition; Karen O'Connor (U.S.) and Mandiba ranked 44th; Amy Tryon (U.S.) and Poggio II were out of the competition after taking a fall during the cross-country competition. There were no reports of injuries to either horse or rider. Phillip Dutton (U.S.) and Connaught did not rank in Individual competition.
In eventing Team competition, Germany took gold after brilliant performances in cross-country and show jumping. The Australian team pressured the Germans throughout, but had to settle for Team Silver, while Britain claimed Team bronze.

The U.S. riders struggled throughout the Team competition, landing seventh overall.