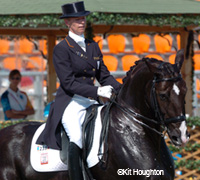 Anky Van Grunsven of The Netherlands and the fearsome mount Salinero are on tap for day two's Olympic Grand Prix dressage competition.
Day one of the Individual dressage Grand Prix Olympic competition has ended, and the field is looking tough. But not too tough for American Courtney King-Dye and Harmony's Mythilus. The horse-and-rider combination landed in 4th place with an overall score of 70.458% after a field of 24 competitors wrapped up their performances during day one's competition. Edging out King-Dye were Germany's Heike Kemmer aboard Bonaparte in the No. 1 spot with a score of 72.250%; Britain's Emma Hindle riding Lancet came in second with 71.125%; and The Netherlands Imke Schellekens-Bartels with Sunrise took third with 70.875%.
But there's still day two to come in the Grand Prix competition and a lot of great riders—23 to be exact–are on tap to potentially rearrange the current standings. Two of those riders, fellow Americans Debbie McDonald aboard Brentina and Steffen Peters aboard Ravel, will no doubt shake things up when they take to the court tomorrow. Other dressage phenomenoms scheduled for day two are German riders Isabell Werth riding Satchmo and Nadine Capellmann aboard Elvis Va, as well as Anky Van Grunsven of The Netherlands riding Salinero, Sweden's Jan Brink aboard Briar, and Finland's Kyra Kyrklund riding Max. Any one of these riders has ability to take the top spot, and with so much at stake you can bet they will all be riding at full throttle.
In addition to day two of the Individual Grand Prix competition, qualified riders will have the opportunity to shine again during the Grand Prix Special and the Grand Prix Freestyle. And of course there's also Team competition. Stay tuned.
For more Olympic results, visit www.horsesport.org/olympics.