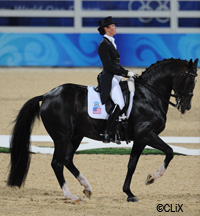 Courtney King-Dye and Harmony's Mythilus are the top ranked United States pair after the team Grand Prix competition.
Germany continues to impress. After taking Team and Individual gold medals in three-day eventing, they've now claimed the No. 1 spot in Team dressage.
As usual, German riders Isabell Werth, Heike Kemmer and Nadine Capellmann battled with The Netherlands' riders Anky Van Grunsven, Imke Schellekens-Bartels and Hans Peter Minderhoud. But Germany pulled out all the stops leaving the Dutch riders with Team Silver.
The legendary rivalry for No. 1 between Van Grunsven and Werth continued to play out during the dressage competition. Early in day two's competition, Van Grunsven and Salinero claimed the top spot with an impressive 77.292%, but Isabell Werth and Satchmo came to perform, and that they did. With a score of 77.708%, they took the lead and pushed Germany to Team victory.
Denmark's Nathalie Zu Sayn-Wittgenstein, Andreas Helgstrand and Anne Van Olst took the No. 3 spot to claim bronze, just edging out the Americans.
The Americans looked like they might be in medal contention in the Team dressage competition, but the riders needed a mathematical miracle from the scoring gods. In the end, the numbers came up short.
Leading the American contingency on day one of the dressage competition was Courtney King-Dye aboard Harmony's Mythilus. The pair landed in fourth place in the day-one standings, but on day two American Debbie McDonald and the fabulous mare Brentina came up empty handed, turning in a score of 63%, uncharacteristically low for the famed duo. This meant it was up to American Steffen Peters and Ravel to save the day. The pair managed a score of 71.667%, which just wasn't quite good enough to boost the team into the No. 3 spot.
The Grand Prix Special and the Grand Prix Freestyle are still to come in these Games to determine which rider will claim gold in Individual competition.