McLain Ward and Sapphire help secure gold for Team USA's show jumpers.
It's been a nail-biter throughout the Olympic show jumping team competition, but when the dust settled the Americans came out on top. The United States won the gold medal in the team show jumping event after a jump-off with Canada; Norway took bronze.
The Americans dominated the competition, staying at the head of the pack throughout the competition. The stellar performances by the Americans means all four riders qualified for the Individual show jumping competition scheduled for later this week. McLain Ward riding Sapphire is tied for second place going into Individual competition and is considered a very strong contender for gold. Fellow teammates Laura Kraut aboard Cedric, Beezie Madden riding Authentic, and Will Simpson aboard Carlson Vom Dach aren't far behind and will putting on the pressure. Individual competition is scheduled for Thursday in Hong Kong.
Dressage Action Continues

Germany's Isabell Werth riding Satchmo and The Netherlands Anky Van Grunsven aboard Salinero continued to battle it out in individual dressage competition this past weekend, but American Steffen Peters riding Ravel has turned up the heat.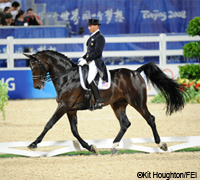 American Steffen Peters aboard Ravel–turning up the heat on the Europeans.
During the Grand Prix Special, which took place this past weekend, 25 qualifying riders took to the dressage court. Werth managed a score of 75.2%, much lower than her usual big numbers but a fair number given Satchmo's apparent show nerves that led to some disobedience during the pair's Grand Prix Special test.
But Van Grunsven had a few mistakes of her own, leaving her in the second spot just behind Werth with a score of 74.96%.
Peters and Ravel are nipping at European heels though. With a final Grand Prix Special score of 71.8%, the American duo is in fourth place behind Germany's Heike Kemmer riding Bonaparte who scored a 72.96%.
American Courtney King-Dye riding Harmony's Mythilus sits in eighth place with a score of 70.8%. Fellow American Debbie McDonald and the famous mount Brentina did not qualify for the Individual dressage competition that is scheduled to wrap up in Hong Kong on Tuesday.