The Olympic equestrian competition reached the end on August 21, after nearly two weeks of edge-of-your seat excitement. We've been covering all the top Olympic news stories on Horse Channel, and here we've got a recap of the most memorable equestrian highlights from the 2008 Games. Some are happy moments, some are sad, but all are history-making:
Eventing Highlights
Three-day eventer Gina Miles carried the American flag during the Olympic opening ceremonies.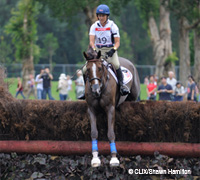 Gina Miles was the top American eventer, earning an Individual silver with her horse McKinlaigh.
Fifty-four-year-old Olympian Mark Todd of New Zealand grabbed headlines worldwide in January and became the eventing media darling after he announced he would come out of retirement for the Games to try for a record-breaking third Olympic gold medal. This time around though, Todd, aboard Gandalf, finished 17th after the jumping phase of Individual competition. He went home medal-less.
Throughout the three-day eventing competition, American riders struggled. During the cross-country phase, Amy Tryon riding Poggio II took a spill on course, which eliminated the pair from further Olympic competition. Several days later, Tryon was admitted to a Hong Kong hospital for injuries she sustained during the fall. Poggio II was unharmed.
Olympic three-day veteran Karen O'Connor (USA) riding Mandiba put in an uncharacteristic poor performance throughout the competition, perhaps owing to the untimely death of her Olympic-hopeful equine partner, Theodore O'Connor.
Americans Phillip Dutton aboard Connaught and Becky Holder riding Courageous Comet didn't fare much better. But despite lackluster performances from the Americans, team member Gina Miles stayed focused. She helped land the Americans in seventh place during Team competition and grabbed a silver for herself during Individual competition.
Amateur rider Hinrich Romeike riding Marius led Germany to yet another Team gold in eventing and secured the Individual gold as well.
China's three-day eventer Alex Hua Tian aboard Chico made history by being the first athlete to represent his country in Olympic equestrian competition. Unfortunately, horse and rider took a spill during the cross-country phase and were eliminated from competition.
Germany swept the eventing competition claiming Team Gold and Individual Gold, with Hinrich Romeike aboard Marius leading the championship pack. Australia claimed Team silver and Great Britain scored Team bronze. Great Britain's Kristina Cook riding Miners Frolic also grabbed Individual bronze.
Dressage Highlights
The big media story going into dressage competition was Japan's Hiroshi Hoketsu riding Whisper. Hoketsu, 67, was the oldest equestrian to ever compete in an Olympic Games. But he has a long Olympic history. He competed for Japan in the 1964 Tokyo Olympic Games at age 23, placing 40th in the show jumping competition. In 1984 he was a reserve member of the Japanese equestrian team that competed in the Los Angeles Olympic Games. He was 43 then. Hoketsu didn't medal this time around, but there's always 2012—he's not ruling it out.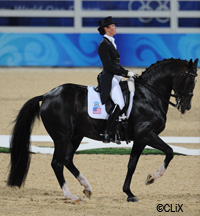 Courtney King-Dye and Harmony's Mythilus led the United States equestrians to a fourth place finish in Team Competition.
Hopes were high that American favorite Debbie McDonald aboard Brentina would medal in these Games, but the duo fell short and was eliminated from Individual competition after a flat 63% score in the Team round. Afterward, McDonald said of Brentina, "She's been schooling so well. I was totally caught by surprise when she started spooking in the ring. She got tense and tight and became unrideable." After the ride, Brentina was given a vet exam that showed she was in good health. Nonetheless, dressage aficionados from the USA were left with heavy hearts.
American Courtney King-Dye aboard Harmony's Mythilus put in a highly respectable performance during Team competition. The young upstart out rode her veteran teammates with a score of 70.458% during the Team competition. Her performance helped the Americans land fourth after the Team round was finished.
The ongoing competitive rivalry between Germany's Isabell Werth and The Netherlands' Anky Van Grunsven never let up during these Olympic Games. Werth out rode Van Grunsven during Team competition, which helped Germany win Team Gold. The Netherlands scored Team silver and Denmark claimed bronze.
Americans Steffen Peters aboard Ravel and King-Dye riding Harmony's Mythilus advanced to the Grand Prix Special. Peters paid a special tribute to his teammate Debbie McDonald by dedicating the ride to her. "I dedicate this to Debbie and Brentina," Peters said. "I feel so terrible about what happened to her, and I admire their performances so much." Peters scored a 71.80% and landed in fourth; King-Dye scored a 70.80% for an eighth-place finish.
Anky Van Grunsven took home her third Olympic gold medal in the Individual competition riding Salinero.
During the Grand Prix Freestyle, which finally determined Individual gold, all eyes were on Isabell Werth and Anky Van Grunsven. Both put in less than stellar performances during the Grand Prix Special, so it was any one's game. In the end, Van Grunsven showed why she is No. 1 in the world by scoring an unbelievable 82.40% during the Freestyle, giving her the edge she needed for Individual gold. Werth had to settle for Individual silver; Germany's Heike Kemmer riding Bonaparte scored Individual bronze. Peters just missed the medals' podium, landing in fourth place.
Show Jumping Highlights
American riders were favored going into Olympic show jumping competition. Two 2008 riding combinations, Beezie Madden aboard the 12-year-old KWPN gelding Authentic, as well as McLain Ward riding the 13-year-old Belgian warmblood mare, Sapphire, were all part of the 2004 Olympic gold medal-winning team, and they proved they could strike gold twice. The United States won Team gold again, helped along by fellow teammates Will Simpson riding Carlsson Vom Dach, a12-year-old Holsteiner gelding, and Laura Kraut riding Cedric, a 10-year-old Dutch-bred gelding. Canada claimed Team silver while Norway grabbed Team bronze.
Beezie Madden and Authentic will bring their hard-earned bronze medal back home to the U.S.
Although Norway nabbed Team bronze, the medal is in contention. A post Team-competition drug screening revealed that four horses tested positive for the banned substance capsaicin. One of those horses, Camiro, ridden by Norway's Tony Andre Hansen, was part of the Team bronze efforts. If after further review the Norwegian is disqualified, then there will probably be a medals redistribution, with bronze most likely handed over to fourth-place finishers Team Switzerland. In addition to Camiro, three other show jumping horses tested positive for capsaicin: Ireland's Lantinus, ridden by Dennis Lynch; Brazil's Chupa Chup, ridden by Bernardo Alves; and Germany's Coster, ridden by Christian Ahlmann. All four horse and rider combinations were eliminated from the Individual show jumping competition as a result of the drug test findings.
During Individual competition, the Americans scored again, but it was a bitter race to the end. Under the unsettled skies of the impending typhoon, the Individual medals were decided by not one but two jump-offs. Beezie Madden aboard Authentic out ran six other combinations to win her first Indivdual medal, a bronze. Canada's Eric Lamaze aboard the mount Hickstead who has come back from colic surgery claimed Individual gold, while Sweden's Rolf-Goran Bengtsson riding Ninja captured Individual silver.
McLain Ward, who made it to the Individual finals, but didn't medal, was happy with his sixth-place performance. "I wanted to win a medal and we tried our very, very hardest," he said. "We gave it everything we had." Kraut and Simpson didn't qualify for the Individual finals.