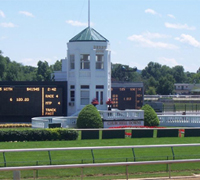 A plain walnut box containing the ashes of 2008 second-place Kentucky Derby finisher Eight Belles was buried on the Kentucky Derby Museum garden grounds at Churchill Downs on August 25, not far from the track where she took her last gallop. On top of the box rests a halter plate with Eight Belles' name and a plaque including the dates she was foaled and died.
Eight Belles was euthanized after suffering a catastrophic injury moments after the 2008 race this past May. She is the first horse that didn't win the 134-year-old classic to be buried in the museum's garden. Besides Sunny's Halo, her ashes join Derby winners Broker's Tip, Swaps and Carry Back.
A private burial had planned for August 29, but it was moved up when local landscapers were available to assist.
Eight Belles will be publicly memorialized at the Kentucky Derby Museum on Sunday, Sept. 7. The service will be open to the public and is scheduled to take place at 2 p.m. ET in the Museum's outdoor garden.
"We hope our memorial service will serve as a lasting tribute to this great filly, and remind every visitor who walks through our doors of the incredible passion and ability she showed here in the Kentucky Derby," said Lynn Ashton, executive director of the Kentucky Derby Museum.
Eight Belles' owner, Rick Porter of Fox Hill Farm, will be present and will unveil a plaque honoring the champion filly during the ceremony. The plaque, contributed by Churchill Downs, will be mounted under a magnolia tree at the site of her remains.
"Eight Belles seemed to give me a look at the Keeneland sales that begged me to be her owner," Porter says. "She blossomed as a racehorse. We will never forget her kind disposition. Now, she will rest in a place of honor and her story will be shared with visitors from around the world at the Kentucky Derby Museum. She was a magnificent steel-gray filly who will live in our hearts forever."
Additional remarks will be made during the memorial ceremony by Porter and by Larry Jones, the trainer of Eight Belles. The ceremony will close with a performance of "Candle in the Wind," chosen by the Porter family and performed by a local bell choir. No museum admission will be required for the ceremony. In the event of inclement weather, the event will take place in the Museum's Great Hall.
The death of Eight Belles, as well as the media attention given to the 2008 first-place Derby finisher Big Brown and his often boisterous trainer Larry Dutrow, has resulted in continued scrutiny on the sport of racing. As a result, several changes have been instituted to improve the welfare of racing Thoroughbreds.
For more information, visit www.derbymuseum.org.