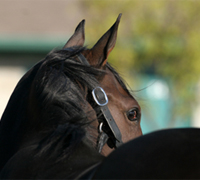 See some of the rarest horses on earth during the Festivale of Endangered Equines, September 5-7, at the Kentucky Horse Park. Drawing more than 125 horses and ponies of 15 different breeds, the event is being hosted by the conservation organization Equus Survival Trust and sponsored in part by KEEP (Kentucky Equine Educational Project).
The Festivale of Endangered Equines focuses on raising awareness within the general public and encourages networking among breeders and associations. The exhibition theme, "Celebrate the Differences," is designed to encourage visitors to explore and cherish the differences in these endangered historical breeds.
Admission to the Festivale is included with admission to the Kentucky Horse Park. Activities include an endangered breed pavilion, demos, booths, youth activities, a drill team performance, lectures, silent auction, as well as clinics with Lendon Gray (dressage) and Muffy Seaton (driving).
A Dartmoor weanling tops the Silent Auction, with proceeds to benefit the work of the Equus Survival Trust.
The weekend fun also includes a full array of classes that promise to be educational as well as competitive. The following historical endangered breeds will participate in activities at the Festivale:
PONY BREEDS: Dartmoor, Exmoor, Dales, Fell, Highland, Gotland, Newfoundland, Kerry Bog
HORSE BREEDS: Akhal-Teke, Canadian Horse, Caspian, Cleveland Bay, Irish Draught, Lippitt Morgan, Mountain Pleasure Horse
For more information, visit www.Equus-Survival-Trust.org.