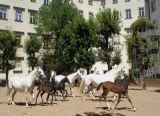 Reuters news service is reporting that for the first time in the history of the 436-year-old Spanish Riding School in Vienna, two female riders have passed the entrance exam there that may allow them to proceed up the ranks at the prestigious institution.
The Spanish Riding School is the world's oldest and only riding school that cultivates classical equitation. It owes its name to the Spanish horses that formed the foundation of the riding school in its early days; nowadays the school is known for its one-of-a-kind setting for training and presenting the famous white
Lipizzan
stallions that are so recognized around the world.
The two female riders, identified as an 18-year-old Briton and a 21-year-old Austrian, must now pass a one-month trial to train at the school, according to the Reuters report. If they pass, the new recruits will train for five years before they can ride in public on the Lipizzan stallions.
"There has never been a ban for women," Erwin Klissenbauer, the school's manager, told Reuters. The school has, however, had a masculine image because of its military background, he said.
The Spanish Riding School Vienna saw its first female management appointment in November 2007 when Elisabeth Gürtler took over to head the institution. It was the first time in the school's history that it had ever been led by a woman.