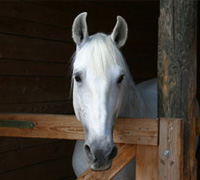 According to the Animal Welfare Institute (AWI), a non-profit charitable organization that supports equine welfare, the House Judiciary Committee will vote on the Prevention of Equine Cruelty Act (H.R. 6598) on Wednesday, September 10th. The bill, which was introduced in July by Judiciary Chairman John Conyers (D-MI) and Representative Dan Burton (R-IN), will criminalize the slaughter of American horses if passed.
The AWI sent out an action alert on Sept. 7 urging concerned citizens to call and/or email members of the House Judiciary Committee and ask them "to support passage of the Prevention of Equine Cruelty Act (H.R. 6598) out of committee as introduced, with NO amendments." The AWI is also urging people to ask House Judiciary members "to cosponsor H.R. 6598 if they haven't done so already."
Whether you contact House Judiciary members by phone or email, provide your name and mailing address, and if you are a constituent, request a response on this specific issue.
According to AWI, every five minutes an American horse is slaughtered for human consumption abroad. Despite the closure of the U.S.'s three remaining horse slaughter plants in 2007, tens of thousands of American horses continue to be slaughtered in Canada and Mexico in the absence of a strong law prohibiting the trade. Passage of the Prevention of Equine Cruelty Act would make it illegal to ship American horses to these countries for slaughter.
For more information, including contact information for House Judiciary members, visit /redirect.php?location=http%3a%2f%2fwww.awionline.org%2f.