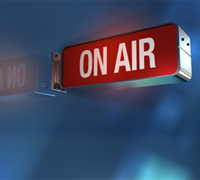 A new online radio show titled "The Stable Scoop" has gone live with an entertaining look at all things equine. Produced by the Horse Radio Network, the Stable Scoop is a weekly internet radio show that examines horse news and the people involved in the industry with online radio hosts Glenn the Geek and Helena B. The two personalities are reportedly holding nothing back with their opinions on the hot horse topics of the day and are striving to appeal to a variety of equestrian disciplines and horse enthusiasts of all sorts.
Listeners can catch the new shows each Friday at
www.stablescoop.com
or by subscribing through iTunes.
Glenn the Geek and Helena B. are familiar with hosting duties on the Internet as they hosted one of the first horse podcasts over two years ago. Both are experienced horse people who take a somewhat irreverent look at the horse industry and are not shy about sharing their opinions. Glenn is a trained improvisational actor and a horse husband with over 20 years of experience at both. Helena is an experienced horsewoman, mom of a horse-loving 6-year-old and an avid fox hunter.
With an emphasis on the everyday rider, show segments include Horse News, Blog of the Week, Stable Spotlight, the 2010 Games Report and interviews with top riders as well as rider's in the "barn next door."