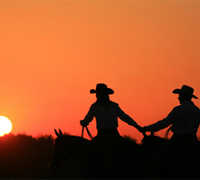 EquestrianSingles.com is celebrating its seventh anniversary this month with plenty of happily-ever-after stories of friendship and romance.
Back in September 2001, EquestrianSingles.com launched as the first website to promote equestrian matchmaking. Today the site boasts 1.6 million hits a day, 11 million page views, and over 300,000 visitors a month.
The website caters to horse enthusiasts around the world who are interested in friendship or romance. Live chat rooms bring individuals together who all have a common love for horses.
The owners behind EquestrianSingles.com are two women with backgrounds in both music and television. Jan Mirkin and Marcia Zwilling met eight years ago when their mutual love of horses brought them together at a local stable. They became friends and bought their first horses just days apart. A year later they started EquestrianSingles.com.
"People who were once isolated and alone in rural communities now have a place to chat with other horse lovers," Mirkin says. Zwilling agrees, "What we have created is a solid community for the equestrian industry. Parties and get togethers take place almost every weekend around the country."
In addition to romance, Mirkin and Zwilling say the EquestrianSingles.com message board has become an emergency communication center to help to coordinate relief and rescue efforts around the country. The site has also formed numerous alliances with such organizations as the BLM Wild Horse and Burro Adoptions, the Mustang Heritage Foundation and Texas Equusearch.
Learn more at www.equestriansingles.com.