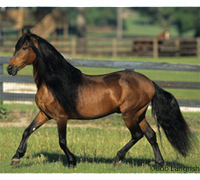 September 13-20 marks the dates of the 2008 Paso Fino Horse Association Grand National Championship Show in Perry, Ga., and it's turning out to be a grand celebration indeed.
Celebración del Paso Fino
is the theme for Nationals this year because while competition headlines the event, parades, trail rides, seeing old friends, meeting new people and celebrating the Paso Fino is all part of the fun.
The highlight of the event is when top honors are handed out, including Amateur Owner of the Year, Hall of Fame inductees, High Point and Senior High Point winners as well as the High Point Horse and Gelding of the Year.
About the Breed
The Paso Fino breed's earliest ancestry includes the Barb, Andalusian and the gaited Spanish Jennet, which came to Santo Domingo (Dominican Republic) with Christopher Columbus to be used as conquistadors' mounts throughout the 1500s. The blood of the Spanish Jennet (now extinct) dominated the future of the Paso Fino; the unusual inherited gaits are the breed's hallmark. The Paso Fino flourished in Puerto Rico and Columbia. Today, the Paso Fino is shown in its traditional tack and is renowned as a competitive trail horse, possessing both speed and stamina.
Although the Paso Fino walks and canters, it does not trot. Its natural, highly stylized gaits are the classic fino (slowest), paso corto (the preferred gait which is as fast as the trot) and paso largo (fastest). Each foot in the comfortable gait strikes the ground independently and in an even rhythm. The Paso Fino is a slight but elegant and refined breed standing from 13.2 to 15.2 hands. All colors and markings are found.
For more information about the breed and the event, visit www.pfha.org.
Visit HorseChannel's Paso Fino profile here.