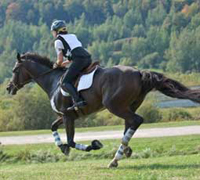 Top eventers are in the seaside town of Deauville, France, this week as the HSBC FEI World Cup Eventing Final gets underway. Beginning September 18 with the first horse inspection, the World Cup features just one American horse-and-rider combination: Clark Montgomery aboard Up Spirit.
The competition is tough. The 40 best riders from 17 qualifier competitions are on hand at the magnificent Deauville-Clairefontaine racecourse for the World Cup, one of the most exciting events on the equestrian calendar.
Alex McLin, Federation Equestre Internationale (FEI) secretary general, commented, "The 2008 HSBC FEI World Cup Eventing Final will be a showcase of the best the sport has to offer. … and with Deauville-Clairefontaine as the spectacular venue, we will be rewarded with an exceptional event."
The FEI World Cup Eventing Final is the sport's first linked series currently consisting of 17 qualifiers culminating in a yearly final. It is organized at the highest level of eventing and in the same format as championships and the Olympic Games. The series is designed to encourage the participation of the world's best riders and horses and promote eventing as "the constant quest for harmony between physical skills and mental balance, contact with nature, precision, stamina, agility and insightful training."
For more information, visit www.horsesport.org.