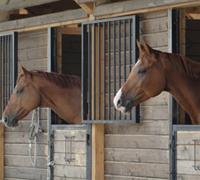 The American Association of Equine Practitioners (AAEP) Foundation's Equine Disaster Relief Fund is accepting aid to help horses in Louisiana and Texas. Money donated to the fund will go to credible programs and organizations that are helping with recovery and rebuilding efforts in the aftermath of Hurricane Ike and any future disasters that may occur. Just as the Equine Disaster Relief Fund did during Hurricanes Katrina and Rita in 2005, funds will only be used to benefit the health and welfare of horses affected by disasters and to assist with emergency and disaster preparedness programs.
"The AAEP, AAEP Foundation and the equine veterinary community are saddened by the tragic loss of life and incredible destruction and flooding caused by Hurricane Ike," says Eleanor Green, DVM, Dipl. ACVIM, Dipl. ABVP, AAEP president. "We are compelled to reach out, together with our members, horse owners and industry leaders, as part of the effort to support the human and equine victims of this disaster."
The AAEP Foundation will work with agencies and veterinary members in Texas and Louisiana affected by this disaster to identify the needs of the equine community.
As an example of past assistance through this fund, following Hurricanes Katrina and Rita, the AAEP Foundation's Equine Disaster Fund made donations of $25,000 each to the Louisiana and Mississippi veterinary medical associations to assist with their rescue and relief efforts. A total of $21,000 was donated to the LVMA Equine Committee for a hay relief effort in Vermillion Parish, in partnership with the United States Equestrian Federation and the LVMA Equine Committee. Another $5,200 assisted a hay relief effort to Louisiana, organized by the Horse Owners of Florida, and $12,000 was used to assist with a cooperative donation of equipment for the New Orleans Police Mounted Patrol. To assist with a preparedness project, $20,000 was donated to the University of Florida College of Veterinary Medicine's Disaster Response Team. This team trains emergency first responders, has a deployable field hospital for large and small animals and team members are trained and ready for large animal technical rescue.
Visit www.aaepfoundation.org for more information or to download a donation form. Tax-deductible contributions can be sent to: AAEP Foundation Equine Disaster Relief Fund, AAEP Foundation, 4075 Iron Works Parkway, Lexington, Ky 40511; (800) 443-0177 (U.S. Only) or (859) 233-0147.