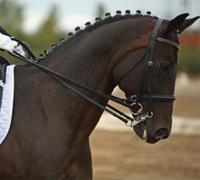 September 23-28 brings Dressage at Devon, where top competitors, horses, trainers and judges from across the continent and around the globe come together for one of the highest-rated international dressage competitions and the most complete breed show outside of Europe. Olympic medalist Robert Dover calls Dressage at Devon "the standard by which all American horse shows should be judged."
More than 700 horses are competing at this year's 34th annual Dressage at Devon Horse Show, held in Devon, Penn. The event opened with the three-day Breed Division, in which horses are being judged for movement and conformation. More than 30 breeds are being represented. The U.S. Dressage Federation (USDF) Breeders Championships East Coast Series Finals, North American Breeders Futurity Championship Finals and the Born in the USA Breeders Awards are among the highlights of the show's first days. New this year is the first Foal Championship ever to be held in the United States.
Thursday, the four-day Performance Division begins. Most Dressage at Devon classes are F.E.I. (Fédération Equestre Internationale) level, including four Grand Prix classes, the level of Olympic competition. And spectators are getting a unique educational experience during the classes: "Dressage with the Experts" offers an opportunity to hear live, expert commentary on individual headsets and an electronic scoreboard allows spectators to see the scores for each movement as they are assigned by the judges.
Dressage at Devon benefits Thorncroft Therapeutic Horseback Riding, Inc., one of the oldest and largest therapeutic riding facilities in the nation. Thorncroft helps the disabled to improve balance, circulation, muscle tone, and concentration, while enhancing self-esteem. Since 1991, Dressage at Devon has raised more than $1,070,000 for Thorncroft.
For information go to www.dressageatdevon.org.