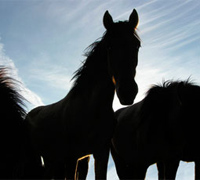 The Prevention of Equine Cruelty Act (H.R. 6598), a bill that would criminalize the sale and transportation of horses for the purposes of slaughter, was approved and recommended to the House of Representatives by the House Judiciary Committee on September 23. The bill passed by a voice vote.
The bill must still be passed by the House and Senate before it can become law, but it's re-energized the issue of horse slaughter in this country.
While there are currently no equine slaughter facilities in the United States, thousands of American horses are exported for slaughter to Mexico and Canada each year. H.R. 6598 would make horse transport to these countries for slaughter illegal.
The Animal Welfare Institute (AWI), a non-profit group that supports passage of The Prevention of Equine Cruelty Act, has publicly commended the bill's sponsors–Committee Chairman John Conyers, lead cosponsor Representative Dan Burton and Subcommittee Chairman Bobby Scott–for their "swift shepherding" of the legislation through the Judiciary Committee.
"By moving this bill, Chairman Conyers, lead cosponsor Representative Burton and Representative Scott are acting in line with the more than 70 percent of Americans who oppose the senseless slaughter of our nation's horses," says Chris Heyde, AWI deputy director of government and legal affairs. "But opponents of this legislation persist in their attempts to mislead the public, and make horses pawns in their political games."
The American Quarter Horse Association, American Veterinary Medical Association (AVMA), American Association of Equine Practitioners (AAEP), American Farm Bureau Federation (AFBF) and National Cattlemen's Beef Association (NCBA), among many others, oppose the bill.
According to a statement from the AQHA, "The majority of horses processed for slaughter in the United States [prior to slaughterhouse closures in this country] were no longer viable for their intended use, unmanageable or simply unwanted by their owners. This bill would severely limit the rights of owners to manage their private property and subject horse owners to criminal prosecution should they sell or transport their horses for processing for human consumption, even if that is not their intention."
"Our opponents love to suggest that horse slaughter is a necessary evil, without which the country will be overrun with a 100,000 horses annually," Heyde counters. "That's ludicrous. This isn't a humane disposal service for sick and old horses; it's a predatory business that is making a profit off the death of healthy horses."
In the last Congress, the House of Representatives overwhelmingly approved a bipartisan bill banning horse slaughter for human consumption by a vote of 263 to 146. The bill was not taken up by the Senate before the end of the congressional session and has languished since.