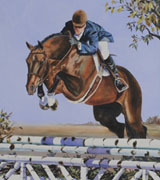 The Capital Challenge Horse Show is celebrating its 15th year when it kicks off on September 27 and runs through October 5 in Upper Marlboro, Md. The prestigious event launches the indoor show season where the elite go head-to-head in year-end finals. Since its inception, the Capital Challenge Horse Show has drawn the sport's best hunter, jumper and equitation riders from across the country.
The show is also known for something else: posters. Since the Capital Challenge Horse Show started its yearly poster in 1995, the artwork of artist Michael Tang has started a collectable series. Each year Tang's image for the poster follows the tradition of beautiful watercolor paintings depicting a winning horse and rider from the previous year. This year's edition features Peter Pletcher riding As Always, a 9-year-old Westphalen stallion.
One would think that a stunning photo of a fabulous hunter would naturally translate into a perfect painting, but Tang looks beyond the form of the horse and becomes instantly aware of everything else that creates a spectacular piece of art: lighting, background and the simple details that create emotion.
This year's poster challenged Tang and took more than putting paint to canvas to create the image we see today. "When I initially received the photograph of Peter Pletcher and As Always, I knew immediately why he chose it, as the stallion is literally jumping out of his skin," Tang remarks. "The horse's form was fabulous, but that was about it; everything else about the photo was wrong for a painting."
In order to make the image work as "an appealing work of art" Tang knew he would have to make changes in color, lighting and background. He began his research, combing through his file of old photographs to see if he could find a horse jumping in a similar position with correct lighting. He also tried to find an image of a fence he liked. Once these references were found, he began the process of making changes.
"I did sketch after sketch over a period of weeks to see how light would fall naturally on the subject," Tang continues. "Once this was solved, I decided on a background that would show off the form of the horse. I knew Capital Challenge was in the fall, so I also wanted an autumnal feel to the piece."
For the poster, Tang also drew upon his intimate knowledge of the sport, aware of the fact that the origin of the sport is fox hunting. With that in mind, he kept the image traditional using a natural fence and an old-fashioned hunt cap. When he was finally finished he was pleased with the painting. "It is an accomplishment to begin a process in which so many things need to be rectified and in the end, have it succeed."
Father Michael Tang is a professor, priest and an artist who paints large watercolors reflecting his interest in religious subjects, his life in California, and of course his love of horses. He is a professor of the Art and Art History at Loyola Marymount University in Los Angeles, California.
The 2008 Capital Challenge commemorative poster will be available for sale during the show at the Prince George's Equestrian Center in Upper Marlboro, Md. For more information, visit www.capitalchallenge.org.