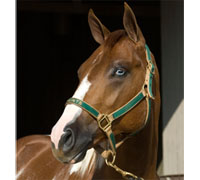 If you missed your chance to win champion-bred yearling Gay Bars Christi at last summer's World Championship Paint Horse Show, you will have one last opportunity to call her yours at the inaugural APHA Fall Championship Show in Fort Worth, Texas, this November. Gay Bars Christi will be available to the highest bidder this fall due to the kindness of Elka Daroga of Bayside, Wis., who won the filly at last summer's World Show. After claiming the prize, the Daroga family donated the filly back to the American Paint Horse Foundation, with the expressed wish of helping the organization raise more funds for its worthy causes.
The filly was bred and originally donated by Floyd and Maryann Moore of the legendary 6-J Paint Horses in Huntsville, Texas, as a fundraiser for the American Paint Horse Foundation's college scholarship program. The Moores have donated fillies to the Foundation for the past five years.
The filly is by Mr Gay Bar Freckles—a multiple Top 10 finisher in reining at the World Show and Reserve Amateur Reining Champion at the European Championships. She is out of Nu Delta Christy, a daughter of APHA Reserve World Champion roping horse Nu Delta.
Gay Bars Christi also has Paint champions Gay Bar O Lena, Delta Olena and Delta in her pedigree. In fact, her pedigree traces back to Delta four times. Delta was the first Paint Horse inducted into the National Cutting Horse Association (NCHA) Hall of Fame and was an NCHA Super Stakes winner.
Gay Bars Christi has been in training with Amy Andreson of the Barn at Cedar Hill in Cedar Hill, Texas, since May and will continue in training until she is sold to the highest bidder at the inaugural APHA Fall Championship Show Select Sale on November 8, 2008. The sorrel tobiano yearling has been trained for yearling longe line, in-hand trail and halter classes. She is currently learning to carry a saddle and ground-driving in preparation for her 2-year-old year.
For more information:
To learn more about Gay Bars Christi and the American Paint Horse Foundation, visit http://www.aphfoundation.org/filly.html.
For additional details about the filly's legendary bloodlines and 6-J Paint Horses, visit http://www.6jpainthorses.com.
For more information about the Fall Show Sale, visit http://www.aphafallchampionship.com/selectsale.aspx.