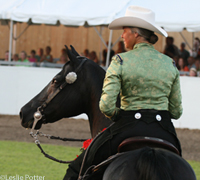 All eyes in the Morgan horse world are once again focused on Oklahoma City, as the town showcases some of the best athletes of America's first breed. October 4-11 marks the Grand National & World Championship Morgan Horse Show, the largest Morgan event in the nation.
No matter your riding style, there's something for everyone at the Grand Nationals. Proving that the Morgan is truly a breed for all disciplines, Grand National classes include Classic, Park, Pleasure, Hunter, Western, In-Hand, Equitation, Carriage, Dressage, Jumper, Trail and Reining.
The Morgan is definitely an equestrian favorite because of its extreme versatility. The breed is known for its free moving action and calmness in the tack, whether it be under a western, hunt seat, trail, saddle seat or endurance saddle. The Morgan's tractable temperament also makes it a favorite for driving.
For more information on the Morgan horse and the Grand Nationals, visit http://www.morganhorse.com/.
To get more information about the Morgan's unique heritage, visit HorseChannel's Morgan breed profile.