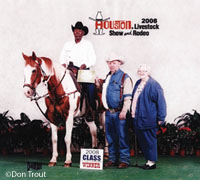 With wins dating back to the 1960s, Cornelious "Paul" Cleveland, 73, of Houston, Texas, is among the newest inductees into the National Cowboys of Color Hall of Fame. The organization, which includes a museum, was formed six years ago to honor those who have been influential in shaping the history of the minority cowboy, and Cleveland made the cut—for over four decades he's been turning out top roping horses that excel in rodeo and horse show competition.
Cleveland saw an early success with the mount Allen Star Dust, a brown tobiano Paint stallion. The horse was foaled in 1962—the year that the American Paint Horse Association's (APHA) predecessor—the American Paint Stock Horse Association—was formed. According to Cleveland, he trained and rode "Stardust" in the inaugural 1966 Houston Livestock Show and Rodeo in Houston, Texas, where they won the APHA tie-down roping class.
The trainer's legacy with the breed continues today. Although Cleveland doesn't show these days, that doesn't mean he's slowed his behind-the-scenes activities any. He is currently busy continuing to train top roping horses and coaching up-and-coming roping enthusiasts.
The Cowboys of Color Museum and Hall of Fame inducted six other honorees in 2008, including Art Burton, Holt Collier, Tommie Haw, Dr. Taylor H. Haynes, Matthew "Bones" Hooks and Willie Thomas.
For more information about the National Cowboys of Color Museum and Hall of Fame, visit www.cowboysofcolor.org.