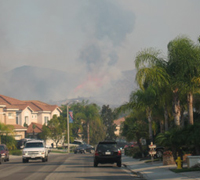 Southern California's fire season is officially underway, as the first major fall firestorm kicked up October 13, fueled by fierce Santa Ana winds gusting at more than 80 mph. As mandatory evacuations continue throughout Southern California, the situation is dire for many of the region's horse owners.
As of 9:30 p.m. Monday evening, two fires—the Marek and Sesnon–have scorched over 10,000 acres in Los Angeles County and continue to burn out of control. Weather reports indicate the worse is yet to come, as Red Flag high-wind warnings coupled with low humidity remain in place through Wednesday.
Pierce College in Woodland Hills, the designated site for L.A.'s livestock fire victims, is filled to capacity at this time. Large animals, including horses, are now being routed to the Ventura County Fairgrounds, just north of Los Angeles. However, it is unclear how many L.A. horse owners can access the northbound freeway systems, as the fires have forced several freeway closures in the region.
Other fires are threatening southern California as well, prompting Gov. Arnold Schwarzenegger to declare a state of emergency in the region. Fires flared in Orange, San Bernardino, Riverside, San Diego and Ventura counties throughout Monday. Another fire–the Joliet–is burning out of control on the Camp Pendleton marine base, situated between Orange, San Diego and Riverside counties. That fire has menaced homes in Oceanside–a city situated in San Diego's North County–and forced evacuations. Nestled just east of Oceanside are several equestrian communities. Residents in these areas remain on high alert.
The current fire situation is déjà vu for many Southern California horse owners. Last October's firestorms forced horse owners throughout the region to evacuate their animals. Many are hoping the Governor's early intervention this time around will provide more firefighting manpower to the region, but Mother Nature has to cooperate as well. So far, she is slow to respond.