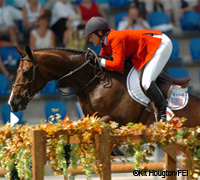 The lineup at the Pennsylvania National Horse Show has turned out to be a who's who of elite riders from around the world. Olympic show jumping gold and silver medalists, along with riders from three nations, and the wildly popular Royal Canadian Mounted Police, are all on hand at the event, which runs Oct. 15-18 in Harrisburg.
Open jumping competition is an international affair, with American, Canadian and Irish riders in intense individual competition. U.S. Olympic Individual Bronze medalist Beezie Madden and her Team Gold compatriots McLain Ward and Laura Kraut never miss the Pennsylvania National Horse Show. All three, along with 2008 Olympic alternate Anne Kursinski, will take on their international rivals in the open jumper classes. Also riding for the trophies and prize money are Jill Henselwood, a member of the 2008 Silver-medal Canadian Olympic team, Canadian alternate Jonathan Asselin, and Irish riders Jonathan McCrea, Shane Sweetnam and Darragh Kerins.
The Royal Canadian Mounted Police musical exhibition is sure to thrill the audience too. The Mounties–with their 32 perfectly matched black horses–will perform a stirring musical ride that includes a variety of complex figures and cavalry drill exercises.
All the international excitement is for a good cause—raising funds for the community through the Harrisburg Kiwanis Youth Foundation and the Pennsylvania National Horse Show Foundation. For online tickets and a complete schedule, visit www.panational.org or call (717) 770-0222.