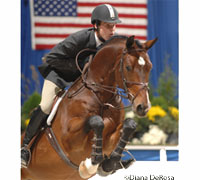 Horse-crazy or not, if you like championship equestrian sport and fast-paced entertainment, the 2008 Washington International Horse Show is for you. An equestrian tradition since 1958, the Washington International Horse Show brings top horses and riders from the U.S. and abroad–including Olympic champions–to the nation's capital to compete for more than $415,000 in prize money and championship titles. About 500 horses participate in show jumping, hunters, equitation and dressage events during the six-day show.
Special exhibitions abound at the event, including top international driving star Chester Weber, who will perform a driving demonstration with his four-in-hand team of bay Dutch Warmblood horses, and three-time Olympic dressage rider Ashley Holzer and her 2008 Olympic mount, Pop Art, will perform a dressage exhibition at the show as well. Washington International also features unique shopping in 55 boutiques and a Pony Pavilion with free pony rides to round out the fun.
Since its debut, the Washington International has been a popular Washington D.C. fixture visited by presidents, first ladies, celebrities, business and military leaders, as well as countless horse enthusiasts of all ages. Notable guests have included Alice Roosevelt Langford, President Dwight D. Eisenhower, President John F. Kennedy, President Gerald R. Ford, General William Westmoreland, Christopher Reeve, John Cleese, Bruce Springsteen, William Shatner, Zsa Zsa Gabor, Arthur Godfrey and many more. Show memories are endless, including in 1970, a carriage marathon with horse-drawn vehicles parading to the White House to give Mrs. Nixon a carriage ride around the South Lawn of the Executive Mansion. The standing North American indoor Puissance (high jump) record of 7 feet 7 1/2 inches was set at Washington in 1983 by Anthony D'Ambrosio and Sweet N' Low. And in 2003 Christopher Reeve, in his last public appearance, made a memorable and moving speech at the show, receiving a six-minute standing ovation.
But the event has an important underlying mission too. The Washington International Horse Show, a non-profit organization, is partnering this year with the National Capital Area Chapter of Autism Speaks, an organization working to change the future for all who struggle with autism spectrum disorders.
For more information on the event, visit www.wihs.org.