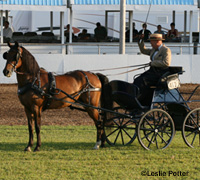 If you're a Morgan Horse enthusiast and love pouring over historical photos of your favorite breed, then check out the American Morgan Horse Association's online Historic Photo Archive. With hundreds of Morgan photos dating from the 1800s to present, the archive is treasure chest of images featuring horses known for both pedigree and beauty. Photos can be found in alphabetical order, national grand champions by year, miscellaneous historical photos or selections by family.
The AMHA Historic Photo Archive is the result of Jan Hall of Douay Morgan Farm investing hours of research that had humble beginnings: Jan initially took to flipping through old pages of "The Morgan Horse" magazine to research the lineage of her own Morgans, but her project soon outgrew its private purpose. In the end, Jan helped build an extensive historical library of Morgan images to be enjoyed by breed enthusiasts worldwide.
And if you've got some special Morgan photos, add to the archives! There are a few submission restrictions though, so read through these guidelines:
Parameters for accepting photos for Morgan Photo Archive
Must be a registered Morgan horse.
Must be deceased and foaled before 1980, unless a World Champion Stallion, World Champion Mare, or World Champion Gelding, or made a notable contribution to the breed.
Horse must have produced registered offspring; geldings that have registered offspring are eligible.
Horse must be clean with a pleasing, safe background.
Photo should be of the horse, without people (except rider/driver/handler).
Retouching will not be accepted.
Horse may be standing or performing, full side view including ears and feet.
Work tack is acceptable if clean and workmanlike. No artificial training devices are allowed (i.e. bell boots are not desirable, but will be considered).
Mane and tail should not be braided, but be free and full (except performing horses braided in the manner traditional for the discipline shown).
Photos may be black and white or color and at least 110 dpi, tiff or jpeg file.
All photos must be presented with full, signed releases from the photographer, if applicable.
AMHA reserves the right to refuse photo submissions.
To view the archive, visit www.morganhorse.com/archive/index.php. For more information or to submit a photo, email info@morganhorse.com.