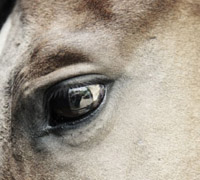 According to New York's Olean Times Herald newspaper, three equine-crazy Girl Scouts have helped raise awareness about cruelty to horses and along the way have earned top praises. Ashley Schichtel, and Holly and April Zendarski, all of Girl Scout Troop 44 in Franklinville, New York, recently completed an anti-soring DVD, "See It Through My Eyes," for which they earned the scouts' highest honor, the Gold Award.
Soring is a process of intentionally causing pain to a horse's front legs and hooves to enhance a horse's gait for the show-ring.
The girls said they made the DVD to increase public awareness about the abusive practice of soring, which continues to plague the gaited horse industry, particularly the Tennessee Walking Horse segment.
"It is something that everyone needs to know about, even those who are not horse owners," April told the Olean Times Herald.
Holly told the newspaper, "It's all about greed really. It's to get an exaggerated gait [from the horses] so they can get into shows and win more. What they do is they usually put chemicals – diesel oil or mustard oil – [on a horse's hooves] to make it painful so horses step higher."
According to the news report, none of the girls had prior DVD-making experience. In addition to learning the technical aspects of the project, they also worked with Friends of Sound Horses (FOSH) to get information about soring practices. The DVD took two years to complete.
The view the eight-minute long DVD, "See It Through My Eyes," visit www.youtube.com/watch?v=kqFeYu1CrjU.