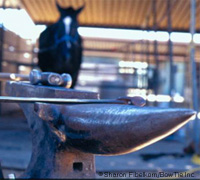 Many hoof-care professionals selflessly donate their time to several causes. Some farriers travel abroad to care for working equines in impoverished regions. Others give their time to teach hoof-care basics to local 4-H groups. The new Summit Achievement Award created by American Farriers Journal will honor the work of one of these dedicated volunteers.
"This program will reward farriers and equine veterinarians who have gone the extra mile to freely offer their time and hoof-care expertise to help horses, horse owners, horse groups or the equine industry with hoof-care concerns," says Frank Lessiter, editor/publisher of American Farriers Journal. "This annual program will be a new way of recognizing individuals who have given so much back to the equine industry."
Several veteran members of the hoof-care community will judge the entries. Judging criteria will be based on the amount of time, money and other resources that are contributed, as well as the innovation of the contribution in terms of creativity and uniqueness. The judges will also evaluate the impact of the volunteered efforts to the equine community, the level of contribution on the local, regional, national or global level, the results of the volunteered work and the amount of required skill and knowledge.
A $2,000 award will go to the winner to continue his or her ongoing volunteer work, along with a plaque and travel expenses and registration to the 2010 International Hoof-Care Summit in Cincinnati, Ohio.
The winner will be announced in early February at the 2009 International Hoof-Care Summit in Cincinnati, and an article about the special person will appear in the March issue of American Farriers Journal.
To enter a deserving hoof-care professional, visit www.AmericanFarriers.com/ff/givingback. The deadline to nominate is December 27, 2008.