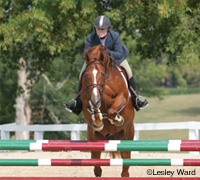 Are you a young show jumping competitor with Olympic dreams? Here's your chance to shine on the international stage: The upcoming 2009 Australian Youth Olympic Festival in Sydney, Australia, January 14-18, 2009, is giving riders ages 15 to 20 years old a chance to compete in an Olympic setting.
The Australian Youth Olympic Festival (AYOF) was initiated by the Australian Olympic Committee following the success of the Sydney 2000 Olympic Games. The inaugural Festival was held in January 2001 and has subsequently been held biennially. The AYOF is fully funded by the Australian Olympic Committee and is held under the patronage of the International Olympic Committee. The AYOF's mission is to discover future Olympic Champions, provide them with an environment reminiscent of an Olympic Games and promote the Olympic ideals of fair play, honesty and pride. Competitors get first-hand experience with:
• A large scale international multi-sport event
• Drug education and drug testing
• Olympic Village style accommodation and dining
• Opening Ceremony and protocols including lighting the Festival Flame, flying the Olympic Flag, the Parade of Nations and stating the Olympic Oath
• Accreditation
• Welcome arrival packs
• Medal ceremonies
If you are interested in this unique opportunity, there is an October 31, 2008 application deadline. Selection procedures, applications, and official standings can be found on the show jumping page of the USEF website at www.usef.org/Contentpage2.aspx?id=natjumping. For more information on the AYOF, visit /redirect.php?location=http%3a%2f%2fcorporate.olympics.com.au%2fgames%2f3016%2f2009%2bAYOF.