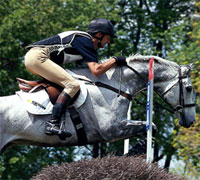 The Galway Downs International Three-Day Event is the longest-running CCI** (international two-star three-day event) currently held in North America, and on October 30 through November 2, the Temecula, Calif., event will celebrate its 10th anniversary with a few surprises thrown in.
Along with top eventing competitors from across the Western U.S., Canada, Mexico and other countries vying for a chance to win, Gina Miles, the individual silver medalist at the 2008 Summer Olympics, will be on hand signing autographs on November 2. Miles, 34, has competed at all levels offered by Galway Downs events during the last decade.
But you don't need Olympic ambitions to enjoy the event. Galway Downs is a great competition for riders who don't plan to compete at the elite levels. It's also a great place to test upcoming horses. Along with the CCI**, Galway Downs has always offered a CCI*, a level that provides a healthy challenge for many riders and is a stepping stone to the CCI** for numerous horses.
For the first time ever, the Galway Downs International Three-Day is also offering a half-star CCI–or training level three-day event–designed to help prepare riders for more advanced competitions. The half-star event is being offered alongside the headlining CCI** and the supporting CCI*; these three levels represent the ascending scale in the progressive education of event horses and their riders. Since 2006 organizers across the country have begun offering the training-level three-day event/half-star to help prepare horses and less experienced riders for the sport's next level. Galway Downs is one of eight competitions offering the half-star in 2008. The training-level event will be as much educational as it is competitive, with officials, veterinarians and veteran riders and trainers conducting seminars on October 30 and offering assistance to riders throughout the weekend. The seminar subjects include lessons in presenting your horse for the veterinary inspection, jumping the steeplechase fences at speed, and properly cooling your horse before and after cross-country.
A special 10th anniversary poster will also be available at the event or on the Galway Downs website for $4.
For more information, visit www.galwaydowns.com.