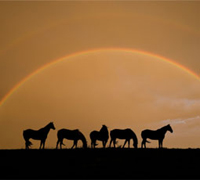 After carefully considering the many wonderful Quarter Horses that were nominated for the 2008 MD Barns Silver Spur Award, official judges have narrowed their choices down to five. Now, the judging is in the hands of the American Quarter Horse Association (AQHA) membership to decide which one of the five horses is most qualified to receive the prestigious award.
The MD Barns Silver Spur Award honors American Quarter Horses that positively affect the lives of humans through outstanding training, contribution or accomplishment. The 2007 MD Barns Silver Spur Award winner was Tippys Sugar Bar, a bay mare that changed the lives of children everywhere she went.
The winner of the 2008 award will receive a specially designed Montana Silversmiths belt buckle and a $25,000 MD Barns gift certificate. The first and second runners-up will receive a specially designed Montana Silversmiths belt buckle as well as other AQHA Corporate Partner products. The award presentation will take place at the 2009 AQHA Convention in San Antonio, Texas, March 6 -9, 2009.
The five finalists for the 2008 MD Barns Silver Spur Award are:
Docacoo, who is owned by Skip Gentry of West Salem, Ohio, has been called "Ohio's Feel Good Horse" for his inspiration to a teenager with epilepsy and his owner's mother-in-law's fight with leukemia. The 33-year-old horse has been a teacher in the cutting pen and fundraiser for hospice.

Monas Little Guy helped owner Carolyn Richens of Pittsfield, Maine, achieve her dreams and win a top-10 jacket at the All American Quarter Horse Congress. Carolyn has to fight against her personal "monster" — Multiple Sclerosis – and her American Quarter Horse has helped her encourage others to find the courage to follow their hearts.

My Rockin Ryon is a 10-year-old gelding with a tough 10-year-old rider who has epilepsy. The bond between horse and human has been strengthened through fighting seizures and the duo has overcome obstacles to win many awards at barrel races and other events. My Rockin Ryon is owned by Calvin and Suanne Stenger of Worden, Montana.
Son Of Satan, who is owned by Marbridge Foundation and Jana Kay of Manchaca, Texas, is a therapy horse working with adults with intellectual disabilities at the Marbridge Foundation, a 55-year-old residential facility. The black gelding has taught more than 250 people about important life skills such as: responsibility, positive communication skills, trust, anger management, work ethic and self-esteem.

Two Doc Two, who is owned by Robert Drewes and Lori Nelson of Soldotna, Alaska, is currently working as a mental health therapy horse for individuals between the ages of 4 and 65. Working with 15 to 20 people each week, Doc does not communicate in English, yet he certainly speaks volumes to those in emotional need.
To read each horse's full story, log on to www.aqhamembers.org/silverspur/silverspurvote_out.cfm and cast your vote between November 3 and December 31. AQHA members who have an AQHA online personal identification number (PIN) will be allowed one vote. To obtain a PIN, contact AQHA customer service representatives at (806) 376-4888.