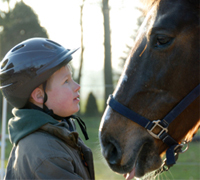 Equine-assisted healing techniques for people diagnosed with autism and cerebral palsy will be scientifically tested in 2009 by two separate professional research teams, with the assistance of $100,000 in funding from the non-profit Horses and Humans Research Foundation (HHRF).
HHRF, which supports scientific research that studies the healing impact of horses on humans, reported that it received applications for funding from a variety of countries and universities. The HHRF selection process resulted in awards to Good Hope Equestrian Training Center in Miami, Fla., and the University of Quebec at Trois-Rivieres, Canada.
"One in every 150 kids has autism," says Molly Sweeney, HHRF board of directors' president. "This pervasive development disorder can have devastating impacts on a family. The economic impact per child is estimated at $30,000 annually, and there are very few effective treatments. We are thrilled at the prospect of providing evidence of hope."
The Good Hope Equestrian Training Center is a 20-acre facility in southern Florida. Their research team will evaluate the effects of equine interaction on autistic children ages 7 through 12. The research will focus on social function, attention and distractibility.
The University of Quebec at Trois-Rivieres is the first grant awarded internationally by the HHRF. The university, located 85 miles northeast of Montreal, will conduct research measuring the effect of a 10-week hippotherapy intervention on the control of head and trunk movement of children with cerebral palsy. Eighteen subjects and their horses will be fitted with telemetry-recording accelerometers to document the speed and magnitude of the subjects' upper body and head displacement throughout the program and eight weeks after.
The HHRF was established in 2002 to fund research that will improve equine-assisted activities/therapies (EAA/T) best practices and to increase awareness of EAA/T benefits. There are nearly 750 EAA/T programs in the United States affiliated with the North American Riding for the Handicapped Association and over 40,000 participants, which represents only a portion of the programs operating nationally and internationally.
The HHRF's first award in 2006 went to Washington University Program in Occupational Therapy. During a year-long study, the team measured stability changes in children with cerebral palsy after 12 weeks of therapeutic horseback riding. The study provided strong evidence that hippotherapy–the use of rhythmic movements of a horse to effect therapeutic gains–substantially improves both head and trunk stability and upper extremity function in children with spastic diplegia cerebral palsy. The results also dramatically displayed that students maintained the improvements after their sessions ended.
HHRF grant awards are made possible by the contributions of foundations, individuals, businesses and therapeutic riding programs nationwide. An anonymous $500,000 challenge grant matches every dollar contributed to the organization.
For more information, visit www.HorsesandHumans.org.
Further Reading
Study finds hippotherapy is beneficial
My experience with equine-assisted therapy