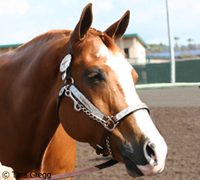 From November 7 through November 22 the world's best American Quarter Horses meet in Oklahoma City for the chance to become a world champion and win a share of more than $2.7 million in cash and awards. From halter to reining and jumping to trail, the Bank of America Amateur and FedEx Open American Quarter Horse Association World Championship Show is the event for those who love and appreciate the athletic ability and beauty of the American Quarter Horse.
According to the American Quarter Horse Association (AQHA), the 2008 World Show entries have increased for this year's event compared to 2007. For 2008, the AQHA received 3,494 entries for the World Show, an increase of 191 over 2007 figures. Entries were received from 48 states, eight Canadian provinces, Brazil, Germany, Italy and the United Kingdom. With 2,154 horses slated to compete, the AQHA states that the Oklahoma City economy will see a boost of more than $31.7 million from exhibitors and spectators.
Some highlights of this year's World Show include the Team Wrangler Showdown, November 20-22, where top trainers compete in events outside their specialty such as putting halter trainers and English riders in barrel racing; ropers and cutters in hunter hack; and all-around competitors in reining.
Another memorable performance will be a freestyle reining and dressage demonstration on November 18. Known as Pas de Deux, both events will be demonstrated side by side. This performance is presented in part by the United States Dressage Federation.
There will be some new stars at this year's World Championship Show as the AQHA debuts its Most Valuable Horse Awards. The MVH Awards recognize the highest point-earning horses in six open divisions: Western (western pleasure, western riding and trail classes); Roping (heading, heeling and tie-down); English (hunter under saddle, hunter hack, working hunter, pleasure driving and jumping); Pattern/Cow (cutting, reining and working cow horse); Speed (barrel racing and pole bending) and Timed (ranch sorting and team penning). MVH winners will each receive $5,000 cash and special recognition at the show.
The Featherlite All-Around Amateur and Superhorse awards remain the most prestigious honors and will be presented to the horse earning the most points in a minimum of three events in two categories. The winners receive a $25,000 certificate toward the purchase of a Featherlite trailer and other prizes.
The AQHA is offering some special healthcare opportunities for its members as well during the event. It has teamed with the University of Oklahoma Health Sciences Center (OUHSC) to provide free health screenings on November 15 from 9 a.m. to 3 p.m. in the Travel & Transportation Building of the trade show. For the second year, the AQHA and OUHSC are also hosting Saddle Up For Life, an event to recognize cancer survivors and raise money for cancer care. This year, Saddle Up For Life will be held Friday, November 14.
For the fourth year, the excitement of the World Show will be shared nationwide on NBC Sports on Sunday, January 4 at 1:30 p.m. Eastern/10:30 a.m. Pacific. The working cow horse competition along with other great events will be featured in a special one-hour show on NBC Television.
For more information about all the exciting events at the AQHA World Championship Show World, visit www.aqha.com.