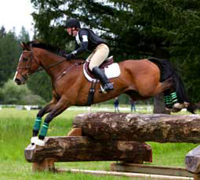 In 2009 the United States Eventing Association (USEA) turns 50, and to celebrate the organization is asking its membership to help design a special commemorative logo.
The USEA recently addressed its membership about the logo. "We are asking you, our members, to seek out your creative talents and help us design a special logo celebrating our 50 years that will be used on pins, decals, logo wear, and more."
A panel of judges will choose the winning design, and the 50th Anniversary Logo will be announced at the USEA Annual Meeting and Convention in New Orleans, which takes place December 11-14. The creator of the winning design will receive a prize package, including a 2009 USEA membership and a USEA Mountain Horse Jacket. Everyone who submits a design will receive a free USEA pin and decal.
Don't let this opportunity pass you by. Start working on your logo today!
Design submissions can be sent to:
USEA Headquarters c/o Emily Daily
525 Old Waterford Rd NW
Leesburg, VA 20176.
Deadline for submissions is December 5, 2008.