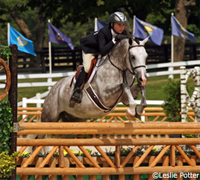 Are you an artist who has a thing for ponies? If you fit the bill, then enter to become the "Official Artist of the United States Equestrian Federation Pony Finals" for 2009. The United States Equestrian Federation (USEF) Pony Finals National Championships is a five-day event that draws young riders from across the country competing for the title of four championships—USEF National Pony Hunter Finals, USEF National Green Hunter Pony Finals, USEF National Pony Medal and the USEF National Pony Jumper Final. The tentative dates for the 2009 event are August 5-9, 2009, at the Kentucky Horse Park in Lexington, Ky.
The Official Artist of the USEF Pony Finals for 2009 will be required to create artwork (painting or drawing) that represents the atmosphere at Pony Finals. The winning artist's work will be featured on Pony Finals merchandise, advertising, a commemorative poster and potentially the cover of the 2009 USEF Pony Finals prize list and show program.
To get started, contact the USEF's Scott Carling, managing director of sales and sponsorships, at scarling@usef.org or (859) 225-6928, for an official bid packet and submission guidelines. Bid packets will be available until Wednesday, December 31, 2008.
Learn what it's like to have a career as an equine artist.