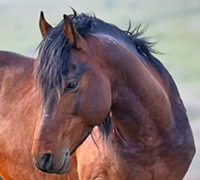 The Bureau of Land Management's (BLM) National Wild Horse and Burro Advisory Board met on Monday, November 17, 2008, in Reno, Nevada, to discuss issues relating to the management, protection, and control of wild horses and burros on western public rangelands. Cost cutting has been a major concern of the agency, which has complained it doesn't have the budget to manage the number of unwanted horses gathered from public rangelands.
According to an Associated Press report released after the November 17 meeting, a BLM official was cited as saying that to control costs the agency will reduce the number of horses it gathers from the range for the current fiscal year. Additionally, the agency will delay a highly controversial cost-cutting measure that called for euthanasia of wild horses to keep costs down and control herd populations.
While euthanasia is on hold for now, the BLM warned that tough decisions still remain. As of June 2008, the agency was holding 30,088 wild horses that had been gathered from the range. According to the BLM, wild horse adoptions are down by approximately 36 percent as compared to the 1990s.