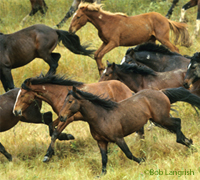 Days after the Bureau of Land Management announced it was struggling to manage its wild horse program, a billionaire's wife stepped up to the plate. Madeleine Pickens, wife of Texas oil tycoon T. Boone Pickens, says she plans to create a massive refuge for about 30,000 wild horses and burros to avoid having the BLM euthanize or sell the animals for slaughter. Her plan includes buying 1 million acres for the horses, although a site has yet to be announced pending negotiations. The BLM has publicly stated it is on board with the Pickens plan and fully supports her efforts. Mrs. Pickens said she plans to make the refuge accessible to the public and that no horse will be turned down from the program.
About 33,000 wild horses and burros roam the open range in 10 Western states; that's an excess of about 6,000 horses according to the BLM. An additional 33,000 horses that have been gathered from public rangelands are currently awaiting adoption, although the sluggish economy has left these animals lingering in holding pens across the country. The cost of keeping the wild horses in these holding facilities has caused the BLM to consider exporting the animals for slaughter or euthanizing them.
"We have mismanaged the horse situation and I will fix that," Mrs. Pickens told The Dallas Morning News. "Everyone is on board with it. They want this project to happen.
"You shouldn't be coming to this country to see Mickey Mouse and Donald Duck," Mrs. Pickens continued in her comments to The Dallas Morning News. "We are more than that. We are a country that was formed on horseback and we should enjoy it, not slaughter it."