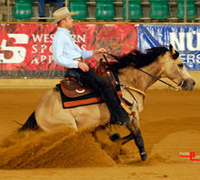 The National Reining Horse Association Futurity & Adequan North American Affiliate Championship Show begins November 27 and runs through December 6 in Oklahoma City, Okla., and the schedule is jam-packed with excitement.
The event showcases 3-year-old horses ridden for first-place prize money of $125,000 with a total purse and prizes totaling over $1.5 million. More than 1,800 horses and 4,000 exhibitors are expected to compete in all classes, and there are three special reining horse sales and an intercollegiate judging contest as well.
But perhaps the most sought after ticket at the Futurity is the Performance Horse Celebrity Slide on November 29, which benefits the Make-A-Wish Foundation of Oklahoma. The event is being put on by the Reining Horse Sports Foundation (RHSF) and features some of the world's greatest bull riders, such as Matt Bohon, Ross Coleman, JW Hart, Cody Lambert, Justin McBride, Cord McCoy, Rob Smets, and McKennon Wimberley. They'll trade their bull ropes and gloves for reiner finery to test their skills on champion reining horses. Used to settling down on a ton of pent-up T N T they'll be aboard equally explosive, though more controllable, dynamos: reining horses, arguably some of the premier athletes of the equine world. Not to be outdone by the bull riders, other celebrities who will hop into reining saddles include saddle-bronc great Billy Etbauer, Oklahoma City's own national award-winning journalist Robin Marsh and singer songwriter Lyle Lovett.
The celebrity competitors will get a crash course in the sport from some of the best reiners in the world: National Reining Horse Association (NRHA) Two Million Dollar Riders Tim McQuay and Shawn Flarida; Million Dollar Riders Dell Hendricks, Craig Schmersal, and Tom and Mandy McCutcheon; and NRHA Professional Casey Hinton. Assisting will be their young friends from the Make-A-Wish Foundation of Oklahoma, serving as honorary coaches.
For more information, visit http://www.nrha.com/futurity.php