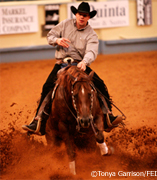 Rudi Kronsteiner (AUS) aboard Smart Spook, winners of the 2007 FEI World Reining Masters
.
Photo: Tonya Garrison/FEI
The National Reining Horse Association (NRHA) is presenting one of the most prestigious reining competitions in the world on December 4: the 2008 FEI World Reining Masters. The event is being held during the 2008 NRHA Futurity & Adequan® North American Affiliate Championship Show, which runs through December 6 in Oklahoma City.
The FEI World Reining Masters is a thrilling competition involving the best individual reiners in the world. All have qualified, according to a point system, in their National Federations. Once qualified the riders advance to the Masters to compete for $100,000 in prize money, along with gold, silver and bronze medals in two divisions, as well as the honor and pride of representing their country.
The two divisions of competition include the $75,000 added Open and $25,000 added Restricted Open. The five countries that were finalists in the 2006 FEI World Equestrian Games in Aachen, Germany, are allowed to send their top two riders to compete in the Open division only. These countries include: United States, Canada, Italy, Germany and Switzerland. Other countries' National Federations can send one rider, and these riders are eligible to compete in the Open and Restricted divisions.
In 2007, the NRHA hosted the Masters during its NRHA Futurity Show. The lively competition brought 17 riders and their contingencies from 15 countries to Oklahoma City. The event proved to be one of the most exciting. A three-way tie between Austrian rider Rudi Kronsteiner and United States riders Casey Hinton and Gabe Hutchins forced a dramatic run-off. Amid thunderous applause, cheers, whistles and even a standing ovation following his run, Kronsteiner captured both the Open and Restricted gold medals. He is the only reiner outside of the United States to win the FEI World Reining Masters. Kronsteiner is representing his country again in this year's competition. He will face U.S. reiners Craig Schmersal aboard Mr Dual Rey (or aboard Memorable Affair), as well as Jordan Larson aboard Lena Gallo. U.S. rider Pete Kyle aboard A Bueno Poco Dunit is the American alternate.