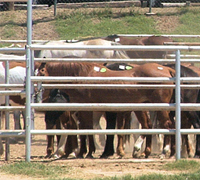 A joint press release put out by two animal welfare organizations—Animal Law Coalition and Animals' Angels—states that the U.S. Department of Agriculture (USDA) was aware of "extreme cruelty during horse slaughter at facilities in the U.S." The December 4 press release claims are based on a 906-page document and nearly 900 disturbing photos released by the USDA.
The document and photos were obtained through a Freedom of Information Act request submitted three years ago by equine cruelty investigator Julie Caramante. Animals' Angels assisted Caramante in obtaining the documents, and they are now working with Animal Law Coalition to assess and disseminate the information.
"I've been an equine cruelty investigator for a number of years," Caramante says, "and I've witnessed many incidents of animal cruelty but nothing could prepare me for these images."
According to the press release, "The photographs document significant injuries to horses at the slaughter house. Injuries included conscious dismemberment, open fractures, blinding, and battered faces. It appears some horses were left to bleed out. Other injuries indicated long-term abuse and neglect."
"The pain and terror these horses had endured is criminal," Caramante says.
The documents and photographs released by the USDA can be found at /redirect.php?location=http%3a%2f%2fwww.kaufmanzoning.net. WARNING: THE IMAGES ARE EXTREMELY DISTURBING.
The press release goes on to state that there is some veterinary community support behind the anti-slaughter movement. "Dr. Nicholas Dodman of the Tufts School of Veterinary Medicine testified before the U.S. House Judiciary Committee describing horse slaughter as, 'a brutal and predatory business that promotes cruelty and neglect,' concluding that as a veterinarian a 'rapid end to this wholly brutal and un-American trade' is warranted." Indeed, Dr. Dodman has vehemently spoken out against horse slaughter. A Q&A with him about his views can be found at: /redirect.php?location=http%3a%2f%2fvetsforequinewelfare.org%2fdodmanqa.php
Horse slaughter in the U.S. ended in 2007 after the three remaining plants in Texas and Illinois were closed by state lawmakers and the courts. There is a federal bill pending in Congress that would prevent horse slaughter from resuming in states without laws prohibiting it. The bill would also prevent U.S. horses from being shipping across international borders for slaughter. Currently, thousands of U.S. horses are shipped to Canada and Mexico for slaughter.