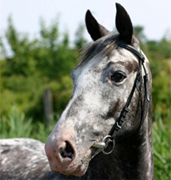 Starting Jan. 1, 2009, Appaloosa Horse Club (ApHC) members will be able to use Equioxx (firocoxib), an FDA-approved nonsteroidal anti-inflammatory drug (NSAID), prior to competition. The decision by ApHC board of directors to approve Equioxx came this past summer.
With the approval, Equioxx is the only nonsteroidal anti-inflammatory drug (NSAID) approved for use up to 14 consecutive days in the ApHC. Equioxx also is approved for use by the American Quarter Horse Association and United States Equestrian Federation (see their respective rules for guidelines).
Equioxx is the latest equine oral NSAID to come on the market; it's been more than 20 years since a new NSAID has been approved for use in horses. Equioxx is designed to control joint pain and inflammation associated with equine osteoarthritis, which is one of the most common causes of lameness in horses.
As with any prescription medication, prior to use, a veterinarian should perform a physical examination and review the horse's medical history. A veterinarian should advise horse owners to observe for signs of potential drug toxicity. As a class, NSAIDs may be associated with gastrointestinal and renal toxicity. Use with other NSAIDs, corticosteroids or nephrotoxic medication should be avoided. Equioxx has not been tested in horses less than 1 year of age or in breeding horses, or pregnant or lactating mares. For additional information, visit www.equioxx.com.
For more information regarding association rules and regulations:
Appaloosa Horse Club Board of Directors summary of motions.
American Quarter Horse Association show rules and regulations.
United States Equestrian Federation Drugs and Medications Guidelines
Learn more about NSAID use for horses.