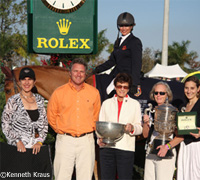 Margie Engle, winner of the Fritz Cup.
©Kenneth Kraus/PhelpsSports.com
The United States Equestrian Team Foundation (USET) awards many prestigious trophies throughout the year to various equestrian disciplines. One of the most coveted is the Fritz Cup, which is given to the national champion in show jumping every year. This year, the award was given to Margie Engle of Wellington, Fla., for her win in the Rolex/USEF National Show Jumping Championship, which was the featured event during the Holiday & Horses show at the Palm Beach International Equestrian Center Dec. 3-7.
Engle, a veteran rider, was the most consistent over the two rounds of competition for victory at the Rolex/USEF National Show Jumping Championship. The two phases of the prestigious event included a Dec. 5 $40,000 speed class, followed by a Dec. 7 $60,000 Grand Prix that also was a qualifying competition for the FEI World Cup to be held in Las Vegas in April 2009.
Engle was eighth overall in the $60,000 phase on Dec. 7 with Hidden Creek's Quervo Gold, and combined with her third place in the first phase of the event with Hidden Creek's Pamina L, she ended up with 44 points for the lead over Kirsten Coe and Starlight.
"I was very pleased with Pamina; she hasn't shown in that many big classes. It was her first time showing under the lights, and I've only had her since March. I thought Quervo was solid too," Engle said.
This was Engle's second victory in the National Show Jumping Championship. She won the first time in 1988 with Hidden Creek's Glory. "It was actually kind of a pleasant surprise to win," Engle revealed. "We weren't sure how the points were adding up. I think it's great that the USET Foundation gives the Fritz Trophy. We need to keep our national championship alive and make sure it is prestigious. It should be a goal for show jumpers, like it is in other countries."
Captain John "Jack" H. Fritz, who donated the trophy, has been a leader of the USET for nearly three decades.
Some of the most well-known names in equestrian sport have had their names etched onto the Fritz Cup trophy for the National Championship. The first winner was Michael Matz on Honest Tom, owned by Joy Slater, in 1981. Matz went on to win the trophy another five times on four different horses, sealing his place as the winningest rider in National Championship history.
Other multiple winners were Conrad Homfeld, Leslie Howard, Beezie Madden and McLain Ward. Thirteen Olympians are listed as winners, including Katie Monahan, Chris Kappler, Lisa Jacquin, Tim Grubb, Peter Leone, Margie Engle, Peter Wylde, Laura Kraut and Todd Minikus.
Read about Margie Engle's Olympic memories >>