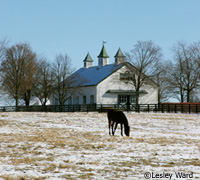 Do your Christmas shopping and contribute to the care of ex-racehorses! The Thoroughbred Retirement Foundation announced it has kicked off a unique fundraising online auction that benefits retired racehorses. The online event, which runs through December 19, features a variety of distinctive auction items.
Acclaimed horse photographer Dennis Hogan has donated an array of superb pictorials of horses in their environment. Artist Lisa Bickford has created a stunning sculpture of Barbaro. Churchill Downs has lent its support with the "Superfecta" package: use of a Jockey Club Suite with 24 tickets, racing programs and 50 percent off on selected food and soft beverage package. And there are all sorts of gift baskets, rare estate items, gift certificates and lots to eat. Go online today to bid and buy at
/redirect.php?location=http%3a%2f%2fwww.cmarket.com%2fauction%2fAuctionHome.action%3fauctionId%3d74782215
. The funds raised online via this auction, will go directly to the Thoroughbred Retirement Foundation's mission and commitment: To save Thoroughbreds that are no longer able to compete on the racetrack from possible neglect, abuse and slaughter.
Founded over two decades ago, the Thoroughbred Retirement Foundation's headquarters in Saratoga Springs, NY, is the oldest and largest nonprofit horse sanctuary in the country and has retired and/or rehabilitated more than 3,000 horses. For more information about the organization, visit www.trfinc.org or e-mail trfinc@cmarket.org.
Read more about programs benefiting the Thoroughbred Retirement Foundation: the Checkoff Program and the Pony Up Program.