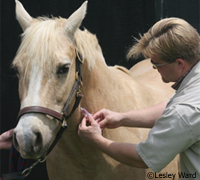 A new program has been formed that aims to help unwanted horses across the United States. On Dec. 8, Intervet/Schering-Plough Animal Health and the
American Association of Equine Practitioners (AAEP) unveiled the Unwanted Horse Veterinary Relief Campaign (UHVRC), a nonprofit program that will provide free
equine vaccines to qualified equine rescue and retirement facilities across the United States.
The goal of the program is to protect the health of rescue horses and subsequently make them more adoptable. Approved rescues may receive one vaccine order per year for an unlimited number of horses. Available vaccines include PreveNile® West Nile Virus vaccine, EquiRab™ rabies vaccine and Prestige® V five-way vaccine containing KY93, KY02 & NM2/93 Flu Strains, EHV-1, EHV-4, EEE, WEE, and Tetanus.
According to the UHVRC, "We're for the unwanted horse. For the broodmare whose breeding days are over. For the Thoroughbred that's just not fast enough. For the workhorses. The pasture pets. The foals that fell through the cracks. Through the Unwanted Horse Veterinary Relief Campaign, we pledge to help the overburdened equine rescues and retirement facilities provide healthcare so they can rehabilitate, revitalize and, ultimately, re-home America's unwanted horses."
AAEP-member veterinarians can work with equine rescue and retirement facilities to receive Intervet/Schering-Plough Animal Health equine vaccines at no cost. AAEP-member veterinarians and equine rescue and retirement facilities will be required to work together to submit an application, the facilities checklist, and the equine
vaccine order form. Only facilities that follow the AAEP Care Guidelines For
Equine Rescue and Retirement Facilities and have a "not-for-profit" 501(c)(3)
tax-exempt status will qualify for the equine vaccines. The UHVRC will accept
qualified applicants beginning Jan. 1, 2009.
A portion of all Intervet/Schering-Plough Animal Health equine vaccine sales beginning Dec. 1, 2008, will support the program in the future.
For more information, visit http://uhvrc.org.
Learn more about the UHC >>