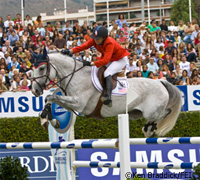 Olympia competitor Laura Kraut shown here at the Samsung Super League riding Cedric. Photo: Ken Braddick/FEI
Olympia, The London International Horse Show, takes place December 16 – 22, and features some of the best show jumpers and dressage riders in the world, including two American riders, show jumping champion Laura Kraut and dressage phenomenon Catherine Haddad.
Olympia is unsurpassed in the United Kingdom for its level of show jumping competition. The show's most well known and exciting show jumping classes include The Rolex FEI World Cup, which is held December 21. The event also features Puissance on December 19 and the Grand Prix on December 22.
Dressage competitions take place December 16-17.
Kraut will have stiff competition at the event, with 38 competitors from 16 different countries taking part this year. Seventeen of the 38 competitors are ranked in the Top 50 of the current FEI world rankings. The top fifteen include Jessica Kürten (IRE) (5th); Edwina Alexander (AUS) (6th); Steve Guerdat (SUI) (10th); Gerco Schröder (NED) (11th); Jos Lansink (BEL) (13th); John Whitaker (GBR) (14th) and Marco Kutscher (GER) (15th).
Haddad faces off in a field of 17 competitors from 11 nations. Two of the Top 10 FEI world-ranked partnerships are taking part at the event: Adeline Cornelissen with Parzival (NED) (4th ), and Kyra Kyrklund with Max (FIN) (8th). Anky van Grunsven with IPS Painted Black (NED) (5th) was scheduled to compete, but she had to withdraw due to back problems.
Kraut has three horses with her for the competition: Anthem, Miss Independent, and Nocturnal. Haddad has brought along Maximus JSS for the event.
For more information, visit www.olympiahorseshow.com.
Read more about Laura Kraut and her 2008 Olympic teammates here.