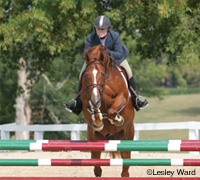 For the first time ever, kids ages 14 to 18 will have their own Olympics. Last July, the International Olympic Committee approved the 2010 Youth Olympic Summer Games and the 2012 Youth Olympic Winter Games. The 2010 Summer Games, hosted in Singapore, will feature the equestrian sport of show jumping and will see a total of 30 riders between the ages of 17 and 18 competing on borrowed horses at the Singapore Turf Club. The qualification system for the Youth Olympic Winter Games is available at www.fei.org/Media/News_Centre/News/Documents/YOG%202010%20Qualification%20System.pdf.
Further details related to the equestrian competition will be published early next year, according to the Federation Equestre Internationale (FEI), the international governing body of equestrian sport.
Additional information on the Youth Olympic Games is available on the IOC website at and on the official website of Singapore 2010.
Read more about the youth Olympics here.