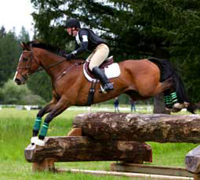 The United States Eventing Association (USEA) announced at its Annual Convention last weekend that it is launching a new medal program that aims to make the sport safer by rewarding competitors who master their eventing skill sets.
While there are several goals of the new program, according to a USEA press release the most important goal is striving to make eventing safer "by changing the dominant culture from focusing on moving up the levels to focusing on mastering the skills demanded by each level." The new program also allows the horse to achieve a medal separately from the rider.
Each individual USEA member may earn a bronze, silver, and/or gold medal at the Beginner Novice, Novice, Training, and Preliminary levels. A separate medal will be awarded for a horse registered with the USEA, based on the same scores.
The new program is scheduled to begin February 1, 2009 and results from that point forward may be put toward earning a medal, with results being cumulative. Members will submit their scores to the USEA for verification once the requirements of a medal have been met. A form will be available online or at events and there will be no fee associated with the submission of this document. Once the scores have been verified the member or horse owner will be provided with the associated awards for the medal achieved.
Information regarding general requirements, scores and submission forms for all levels is still pending, but further details are available at www.useventing.com.
Read about USEF president David O'Connor's statement on eventing safety.