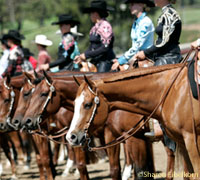 Students who are members of the American Quarter Horse Association should mark January 2 on their calendars. That's the date that American Quarter Horse Foundation Scholarship Program applications are due!
Since 1976, the American Quarter Horse Foundation has awarded more than $4.7 million in scholarship assistance to its youth members. More than 850 students have benefited from the successes of a higher education. Assistance is provided based on the applicant's financial need, academic merit, equine involvement and civic activities.
The Foundation provides scholarships to outstanding members who demonstrate a thirst for knowledge, dedication to excellence and a passion for the American Quarter Horse.
Applicants may download a complete list of the current scholarships available through the Foundation . Carefully read the information to see if you meet the criteria specified.
To be considered for a Foundation scholarship, you must complete and return a current scholarship application. In addition, several support materials are requested for submission. Please read through the current guidelines for more information.
Deadline to apply is January 2, 2009. Incomplete or late applications will not be eligible for consideration. For more information, please contact (806) 378-5029 or foundation@aqha.org. You can also visit www.aqha.com/foundation/programs/scholarships.html for more information.
Read more about the Quarter Horse at HorseChannel's breed profile.