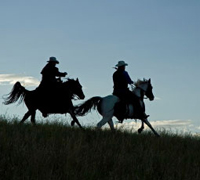 Spike TV is searching for the next big superstar in rodeo with "Toughest Cowboy," a new one-hour reality series from producer Mark Burnett premiering January 29, 2009 on Spike TV.
Toughest Cowboy is a sports/reality show competition based around rodeo. Twelve of the grittiest cowboys in America compete in eight episodes in a national tour that takes them to Chicago, Atlanta, Indianapolis, Columbus, Raleigh and Minneapolis/St. Paul. The fearless cowboys must ride in three dangerous disciplines each night–bareback riding, saddle bronc riding and bull riding—a test of endurance in modern rodeo competition. In each "Toughest Cowboy" episode, at least one cowboy will be kicked off the show in a sudden elimination bull ride match. The final champion will win a spectacular ranch in the Rocky Mountains of Wyoming.
"The athletes on 'Toughest Cowboy' are living icons who take unbelievable risks every time they enter the arena," says Mark Burnett, president of Mark Burnett Productions. "We are excited to bring their stories to the Spike audience as they fight to secure their American dream in a competition that will keep audiences on the edge of their seats." Burnett is an Emmy-award winning producer who has been behind such landmark series as "Survivor" and "The Apprentice." He serves as executive producer for "Toughest Cowboy."
"Toughest Cowboy" premieres Thursday, January 29 at 11 p.m. (ET/PT). For more information, visit www.toughestcowboy.com.