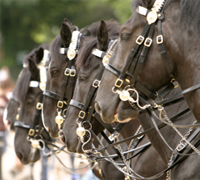 Each New Year's day brings the Tournament of Roses Parade in Pasadena, California. This parade has a long equestrian tradition dating back to 1890 when the Valley Hunt Club created the parade to celebrate their southern California paradise. The Valley Hunt Club remains involved to this day by participating in the parade with a carriage pulled by a team of Friesians.
Some of the other equine entries in the 2009 edition of the parade include:
-The Marine Corps Mounted Color Guard.
Currently the only mounted color guard in the U.S. Military, this entry features BLM Mustangs.
-All-American Cowgirl Chicks.
Trick riders from Texas ride for cancer awareness.
-Dunkin Acres Miniature Donkeys.
In their first Rose Parade appearance, this six-donkey hitch is expected to be a big hit.
-Hollywood Paso Finos.
This equestrian group promotes the Paso Fino breed in dance and performance as well as parade appearances.
-Long Beach Mounted Police.
24 palomino Quarter Horses with riders dressed in traditional western attire of the early twentieth century represent the city of Long Beach, Calif.
-The Victorian Roses Ladies Riding Society.
This group has appeared in traditional Victorian dress in many parades. The horses come from a wide variety of breeds and backgrounds.
-Spirit of the West Riders.
Mounted on Quarter Horse and Arabian geldings, this group meticulously selects authentic western wear to celebrate the American frontier of the nineteenth and early twentieth century.
-Scripps Miramar Ranch.
Longtime participants in the parade, this group of six world class equestrians ride flashy pinto American Saddlebreds in full parade attire.
-The Shire Riders.
With nine riders mounted on Shires, the world's tallest breed of horse, and one rider on a Haflinger pony dressed as a Shire, this group is sure to turn heads.
The parade begins at 8:00am PST and will air on ABC and NBC. Check local listings, as the parade may be rebroadcast.
For more information, visit the Tournament of Roses Official Site.